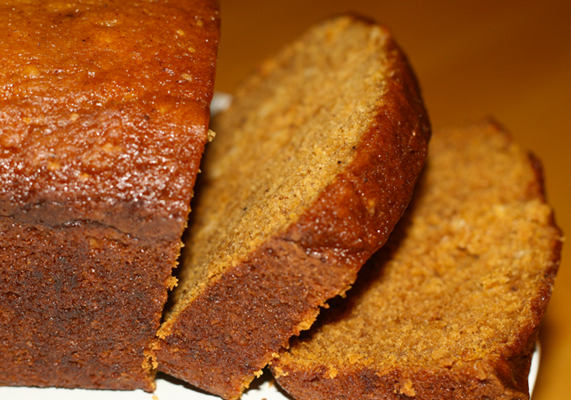 Ingredients
1 1/2 cups (200g) flour
1/2 teaspoon of salt
1 cup (200 g) sugar
1 teaspoon baking soda
1 cup (240 ml) pumpkin purée*
1/2 cup (120 ml) olive oil
2 eggs, beaten
1/4 cup water
1/2 teaspoon nutmeg
1/2 teaspoon cinnamon
1/2 teaspoon allspice
1/2 cup (120 ml) chopped walnuts
* To make pumpkin purée, cut a pumpkin in half, scoop out the seeds and stringy stuff, lie face down on a foil or Silpat lined baking sheet. Bake at 350°F until soft, about 45 min to an hour. Cool, scoop out the flesh. Freeze whatever you don't use for future use. Or, if you are working with pumpkin pieces, roast or boil them until tender, then remove and discard the skin.
Preparation:
Preheat oven to 350°F (180°C). Sift together the flour, salt, sugar, and baking soda.
Mix the pumpkin, oil, eggs, 1/4 cup of water, and spices together, then combine with the dry ingredients, but do not mix too thoroughly. Stir in the nuts.
Pour into a well-buttered 9x5x3 inch loaf pan. Bake 50-60 minutes until a thin skewer poked in the very center of the loaf comes out clean. Turn out of the pan and let cool on a rack.
Can easily double the recipe.
Yield: Makes one loaf.