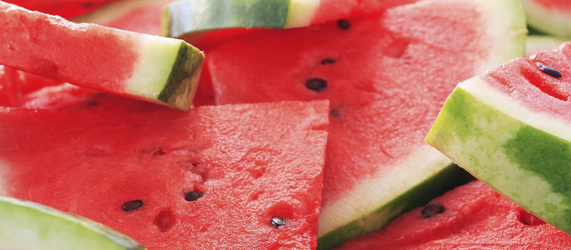 Watermelons belong to the cucumber and squash family and are available in more than 50 varieties. Most have red flesh, but there are orange and yellow-fleshed mixtures.
It turns out that watermelon is very healthy. Watermelon is full of water, 90% water; it is the nature's mineral water. This makes watermelon a great diuretic.
Watermelon is rich in lycopene, which I an antioxidant and helps preventing heart disease and strokes. Watermelon contains more lycopene than tomatoes.
Watermelon is rich in vitamin C and mineral, like magnesium and potassium which helps lowering blood pressure.
It is great for weight loss as a cup of watermelon only contains 50 calories.
Tags: Watermelon